08 Oct 2015 · Patter • Work
Patter: realtime / freeform generative music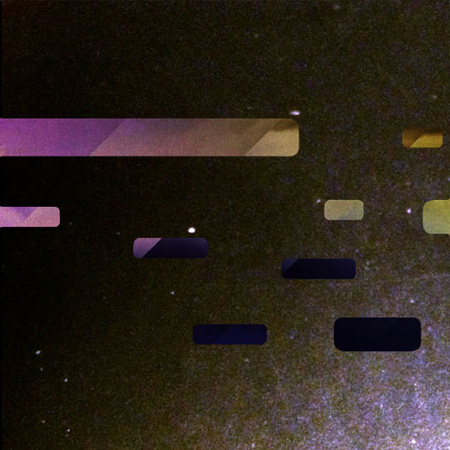 Today I'm proud to announce that Patter, the product and productization of my long-running rumination and experimentation in generative music, is available as a Max For Live device in the Ableton store.
Beginning as a series of prototypes for performing live, improvisatory electronic music during my MFA at CalArts, the project metamorphosed, first into the grandiose (an open-source platform! a universal syntax for music!), and then, through a process of conceptual whittling and technological overhauling, into the succinct plug-in form it takes today.
Read more »
09 Dec 2013 · Alongslide
Alongslide, for long-form web reading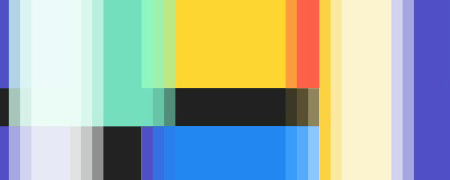 This week I'm thrilled to announce the official release of Alongslide, a responsive, parallax-inspired, somewhat conceptual web reading interface for long-form content as part of Triple Canopy's new publishing platform.
The official announcement—and the first content produced with the tool!—will be rolled out in the next few days. In the meanwhile, please take a scroll through the demo site.
The complete source will be published in spring 2014, once it has gotten some solid road testing by the editorial staff.
Read more »
13 Mar 2013 · Chrome Web Lab • Work
Chrome Web Lab: Universal Orchestra
I spent the better part of last year on a massively ambitious hybrid of a website and museum exhibit conceived by the brilliant Tellart for Google Creative Lab: the Chrome Web Lab, a series of five "experiments" in meshing physical and digital space. My focus was the Universal Orchestra, a mechanical musical ensemble of eight custom-fabricated percussion instruments, playable in open collaboration by museum and online visitors alike. The yearlong exhibit is still up at the Science Museum, London through July 2013, and has earned some very gratifying accolades, most recently winning in the Experimental category at the SXSW Interactive Awards (last night!). But whether or not you're able to immerse yourself in the live acoustic experience, you can play anytime online—and take part in a 24/7 crowdsourced composition.
Read more »
14 Nov 2011 · Patter
Loom: a generative music platform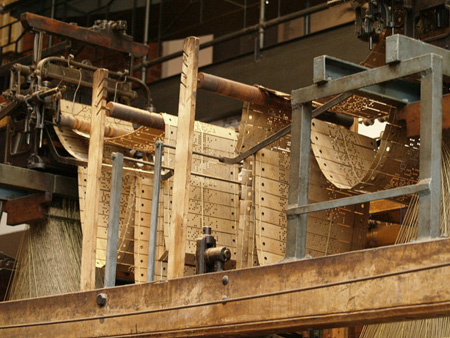 UPDATE: Since this post, the project has been released under the name Patter. Read more and come play!
Over the past year of generative music experiments in performances and installations, I've been chipping away at a homebrew, Ruby-based platform for Ableton Live which I call Loom—named for the textile pattern-generating ancestor of the computer. In hopes of getting more ears on it, I've recently distilled it all down to a lean and modular (albeit very alpha) core, and published the source on GitHub, where you'll also find a slightly more technical introduction than the pontificating, hyperlinking, and screencasting below.
Read more »
25 Aug 2011 · Writing
Code: Notes on a literary medium
The faint ebb of Steve Jobs' influence on personal computing this week seems to have set off a moment of reflection and nostalgia on the emergence of a medium and its guiding principles. No better time, thought I, than to self-publish the soul-searching essay I wrote last spring to make sense of a half century of computing, ultimately reading code and computers as, well, texts, media, literary documents.
Read more »
24 Aug 2011 · Work
Divining Rod
Sound installation for brass slide on guitar strings with computer processing; activated by Arduino, servo, found wood, and a lot of fishing wire.
Shown at the Wave Cave at CalArts, spring 2011.
Read more »
11 Aug 2011 · Patter
SoundAffects: generative music on the streets
Last spring I was approached by the always-awesome Tellart to consult on a fairly unique generative music street installation, to be deployed in lower Manhattan for Parsons The New School for Design. There was going to be a long wall on 5th Ave rigged with cameras and sensors of all sorts, data visualization on the website, and a 24/7 streaming soundtrack. The only question was: what will it sound like?
UPDATE: new, official video from mono!
Read more »
16 Jan 2011 · Alongslide • Work
Triple Canopy redesign / Horizonize
Last fall, Triple Canopy released a fairly massive redesign, including a ground-up rewrite of our familiar side-scrolling layout system.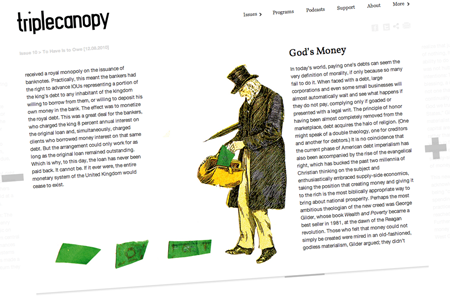 Screenshot from the beautifully-illustrated "To Have Is to Owe", from issue 10.
Read more »
05 Sep 2010 · Work
Tube Amp
For last April's 2-Headed Beast festival at CalArts, I pulled together an ambient sound installation using some simple robotics and some shall we say artisanal woodworking. Until I get around to editing the HD footage, here's the lo-fi video doc from my point & shoot.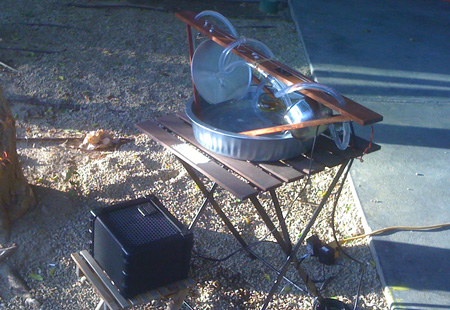 Read more »
05 Sep 2010 · Alongslide
The Web's Wide Orbit
Last week I wrote an op-ed for Triple Canopy's annotations about Chris Anderson's debated Wired article "The Web Is Dead. Long Live the Internet."
Read more »